Climate Change
Climate change refers to long-term shifts in temperatures and weather patterns. Such shifts can be natural, due to changes in the sun's activity or large volcanic eruptions. But since the 1800s, human activities have been the main driver of climate change, primarily due to the burning of fossil fuels like coal, oil, and gas.
Africa is the most vulnerable continent to climate change impacts under all climate scenarios. Despite having contributed the least to global warming and having the lowest emissions, Africa faces exponential collateral damage, posing systemic risks to its economies, infrastructure investments, water and food systems, public health, agriculture, and livelihoods, threatening to undo its modest development gains and slip into higher levels of extreme poverty.
Children in Africa are the worst affected when it comes to the climate crisis. According to a UNICEF report released on the 1st of September, Time to Act: African Children in the Climate Change Spotlight, children in 48 out of 49 African countries assessed, are categorized as at high or extremely high risk of the impacts of climate change. The analysis assesses countries based on children's exposure to climate and environmental shocks, such as cyclones and heatwaves, as well as their vulnerability to those shocks, based on their access to essential services. Read more here. 
The Africa Climate Week!
Kenya held it's first ever Africa Climate Summit, which saw global leaders, children, youth,civil society organizations, local organizations, and indigenous people convene in Nairobi for a week full of learning about how we can adapt and mitigate the growing crisis of climate change. During the summit, Kenya, led by H.E. President of the Republic of Kenya, Dr. William Ruto, launched the 'African Leaders Nairobi Declaration on Climate Change and Call to Action.' Read and download the Nairobi Declaration Here  
A Win for the African Child
During the Africa Climate Summit, children had the opportunity to interact, moderate, and be part of panel discussions at different side events. The biggest highlight for children during the summit was the chance given to them to read and present their declaration to H.E. President of the Republic of Kenya, Dr. William Ruto. 
The Africa Children's Climate Declaration was a joint effort by children from different parts of Africa who gathered for a two day children's climate summit on September 2nd and 3rd, 2023, in Nairobi, Kenya. You can watch the full declaration here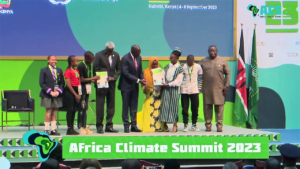 ( Children representatives from different countries present their declaration to H.E. President of the Republic of Kenya, Dr. William Ruto, during the Africa Climate Summit in Nairobi, Kenya. ) 
Children's Climate Summit. 
On September 2nd and 3rd, 2023, Children from different parts of Africa convened at the Sarova PanAfric Hotel in Nairobi, Kenya, to learn, engage, and discuss how climate change affects them under the theme; "An Africa Fit for Children -Securing the Voices of Children in the Climate Change Discourse." The Children's Climate Summit provided a unique opportunity for children to participate in continental and global climate change conversations and discourse and provided a unique platform for children to creatively express their perceptions, aspirations, ideas, and solutions on climate action. The two day summit was intended to afford children the opportunity to share and raise awareness about their lived experiences and the impact of climate change on their wellbeing, and to show the role of children as agents of change in revising the climate crisis.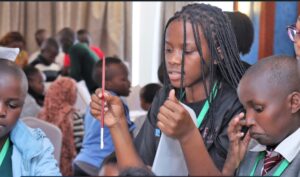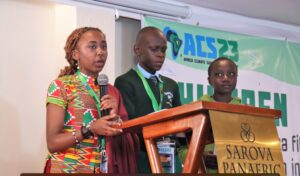 (Children from different parts of Africa, presenting their projects duringh the Children Climate Summit)
Children engaged in climate activism using art during the children's climate summit; the art included Poems, art work, and music. 
In their presentation, children emphasized the need for climate change to be taught to everyone in a language that all can understand. Over the years, climate change has increased the number of cases of drought in most African countries, leading to an increase in food insecurity. Lack of food in most African homes has forced children to drop out of school, which has increased the level of illiteracy in Africa. In Uganda, increased floods have led to an increase in landslides, which have caused the destruction of properties and lives. In Kenya, the persistent drought in many parts of the country, especially in Kajiado County, has led to the death of livestock, which is one of the main sources of income for the Maasai community. The harsh reality of that is the increase in early child marriage as parents are compelled to wed their young daughters in exchange for livestock. In Malawi and Mozambique, cyclones have damaged schools and hospitals.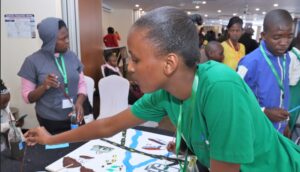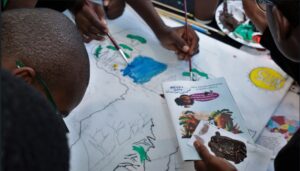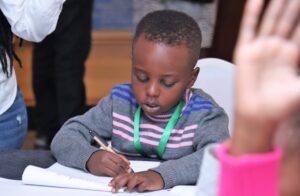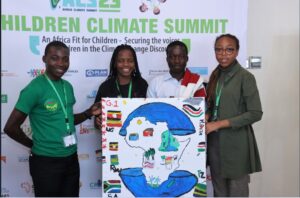 (Different climate activism artwork activity by children during the Children Climate Summit in Nairobi, Kenya)
Recommendation by children.
Children come up with the following solutions;
They need the African government to finance tree planting process, because trees attract more rain, which will ensure more harvest and increase food security

They need African governments to support school feeding programmes and provide a well balanced diet for all children

They need more children in more climate discussions.

Children should be involved in decision making because there is nothing for children without children

The government should create climate sensitization programmes so that we can all learn on how to mitigate the effects of climate crisis

We want African leaders to create an Africa fit for all children.
Young people hold the key to addressing the future impacts of climate change. Despite being the most affected, they lack adequate platforms and voices to share their perspectives and solutions. There is an urgent need, therefore, to empower the next generation of young people to lead the way in addressing climate change.
Our commitment as civil society organisations
 One of our mandates as CSOs is to implement programmes that are focused on the realization of children's rights as contained in the African Charter on the Rights and Welfare of the Child (ACRWC) and the United Nations Convention on the Rights and Welfare of the Child (UNCRC). We commit to continuing to provide more platforms for children to enable them to participate in meaningful forums such as the children's climate summit.